Right and Left Studios Gets World Premiere of Horror Film, End Trip. A Film Mirroring the Real Life Horrors of Technology.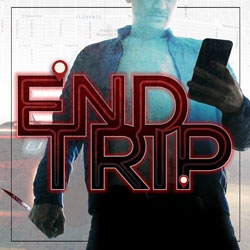 Los Angeles, CA, June 04, 2018 –(PR.com)– If you've been on social media, or watched the news recently, you've probably heard about the growing number of violent incidents, altercations, and even deaths occurring on rideshare trips. With the growing trend of the "sharing economy," comes the equivalent trend of crimes taking place in an emerging industry.
End Trip sets its aim, not on the sensational, over-dramatized Hollywood-esque depiction of a rideshare trip gone wrong, but on a much more grounded, real-world imagining of such an event. Which makes it that much more haunting.
End Trip's Synopsis reads:
While on the clock, URYDE driver Brandon (Aaron Jay Rome, also writer and director) picks up a fare named Judd (Dean J. West). In the throws of relationship turmoil with his girlfriend, Megan (Michelle West), Judd's not sure of his destination. During an aimless rideshare trip around the city, Brandon helps him piece his life back together by drawing parallels in his own romance with Steph (Ashley Lenz). Throughout the night Judd and Brandon grow closer, all the while, discovering how Brandon's impending marriage to Steph might not be all that it seems. When the facts between life on social media and reality begin to misalign, who do you trust?
The shoestring-budget independent film, shot solely in New Orleans, Louisiana, is making headway among its studio-backed competition. It's grounded performances, and gritty aesthetic offer a much more nuanced and unpredictable experience than is found in much of the horror genre today.
The magic in the End Trip mixture appears to be it's shocking mid-movie twist, and timely relevance, coupled with the cautionary tale of what can go wrong when technology is overly trusted. The last reported mark against Uber's credibility being just a few days go when a driver shot and killed a passenger while en route on the highway in Colorado. "It's very unfortunate. That event wasn't the first of its kind, and definitely won't be the last," says writer/director, Aaron Jay Rome. He continues, "Dashboard camera and cellphone videos are posted daily on YouTube from rideshare users getting more than they bargained for." End Trip places its thumb firmly on the heartbeat of tech companies, and checking the pulse of how much accountability can be written into its coded veins.
End Trip made its debut at the Cannes Film Festival and is being lauded with its world premiere at the TCL Chinese Theatres in Hollywood, California this Saturday, June 9th at 11:45 pm as a part of the Dances With Films' film festival. The event is open to the public and tickets can be found on Fandango.com. Aaron Jay Rome and co-owner of Right and Left Studios, Ashley Lenz, will be in attendance along with other cast and crew.
Its international premiere will be in Spain, this July as a part of the Madrid International Film Festival where it has also been nominated for Best Feature Film and Best Director. Follow along with End Trip news and new screening opportunities on EndTripMovie.com or Facebook.com/endtripmovie.
Contact Information:
Right and Left Studios
Aaron Jay Rome
323-763-0235
Contact via Email
facebook.com/rightandleftstudios
Read the full story here: https://www.pr.com/press-release/755595
Press Release Distributed by PR.com