Lockdowel, Creator of Award-Winning Snap-on Drawer Slides and EClips Tool-less Glue-less Furniture and Cabinet Assembly–Hosts New Location Open House Sept. 29th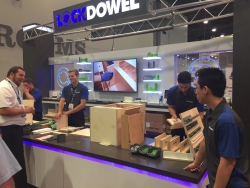 Fremont, CA, September 14, 2017 –(PR.com)– With an increase in customers and popularity of their snap-together assembly solutions, Lockdowel Inc. has expanded to a new 9,000 square feet location at 41920 Christy Street in Fremont, California. The company will celebrate the move with an Open House and barbeque on September 29th. Lockdowel will demonstrate EClips fastener glue-less, tool-less cabinet and furniture assembly, AWFS Visionary award-winning, snap-on drawer slides, snap-in hinges and no-hardware, no-show solutions for various modular closets.
"We've helped a long list of furniture and cabinet makers significantly increase profits with the snapable, Lockdowel assembly method," Lockdowel President Bryan Koelling says. "When an assembly solution can save hours of installation time, with a stronger, better-made product, the industry should come see what it's all about, and we invite them to Friday, September 29th."
Lockdowel will show how to speed up manufacturing and assembly with the tool‐less, glue‐less Lockdowel Lean Manufacturing Process, made possible with new Lockdowel automatic drilling and fastener insertion machines from: CNC Factory, Laguna Tools, Biesse (Omal), Pillar Machine, and STEMA.
At the Lockdowel Open House participants will learn, hands-on, how to create a lean manufacturing production environment that can be applied to cabinets, furniture and customized closets, saving significant time and money and lowering assembly costs and increasing profits by 60 percent or more! Register for either the morning or afternoon session on Friday, September 29th:
1) Session 1: 9 am-12 pm;
2) Free: noon-1 pm lunch for all registered attendees;
3) Session 2: 1 pm-4 pm.
Sign‐up for either of the two sessions by going to: https://www.eventbrite.com/e/lockdowel-open-house-sept-29-2017-learn-how-to-increase-revenues-by-60-tickets-37814071907
About Lockdowel
Lockdowel provides glue-less and screw-less fasteners, drawer slides and hinges for fast and easy installation of cabinets, furniture, closets and architectural millwork. Patent pending. Lockdowel 41920 Christy Street Fremont, CA 94538, (650) 325-8732 www.lockdowel.com
Contact Information:
Mary Lynn Heath, PR
Mary Lynn Heath
405.641.9733
Contact via Email
www.lockdowel.com
Read the full story here: http://www.pr.com/press-release/729927
Press Release Distributed by PR.com