Principled Technologies Releases Report Showing the Time Savings for IT When Organizations Choose to Use ProDeploy for Enterprise from Dell EMC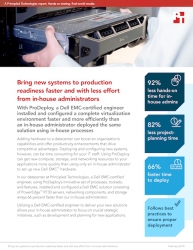 Durham, NC, February 13, 2018 –(PR.com)– Adding hardware to a datacenter can boost an organization's capabilities and offer productivity enhancements that drive competitive advantages. In the Principled Technologies datacenter, a Dell EMC-certified engineer using ProDeploy for Enterprise processes, toolsets, and features installed and configured a Dell EMC solution consisting of PowerEdge R730 servers, networking components, and storage arrays faster than an in-house administrator.
According to the report, "[u]tilizing a Dell EMC-certified engineer to deliver your new solutions allows your in-house administrator to focus on crucial strategic initiatives, such as development and planning for new applications."
To learn more about the time savings and benefits of choosing ProDeploy for Enterprise, read the full report at http://facts.pt/YU95pg.
About Principled Technologies, Inc.
Principled Technologies, Inc. is the leading provider of technology marketing and learning & development services.
Principled Technologies, Inc. is located in Durham, North Carolina, USA. For more information, please visit PrincipledTechnologies.com.
Natasha Simmons
Principled Technologies, Inc.
1007 Slater Road, Suite #300
Durham, NC 27703
[email protected]
Contact Information:
Principled Technologies, Inc.
Natasha Simmons
704-712-1115
Contact via Email
http://www.principledtechnologies.com/
Read the full story here: https://www.pr.com/press-release/735062
Press Release Distributed by PR.com